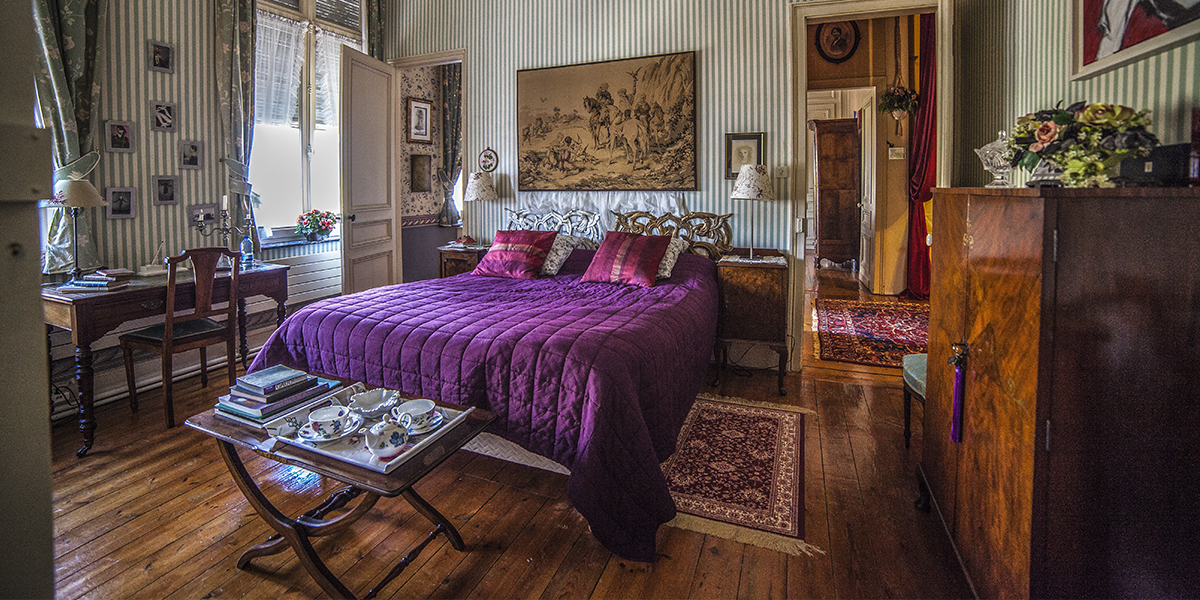 An unexpected journey into art and history ! With this great hospitality...
The editor-in-chief of Figaro Magazine, Karl Meuus, describes it this way: this mansion is "an enchanted parenthesis".
The Peylouse is an
authentic guest house
and its atmosphere is as subdued as it is exuberant. Each furnished, each object is an invitation to travel and surprise. Choose yours! Because all the 20th century, and the 5 continents meet each other in an elegance and all Parisian audacity. The lounges, the French and Anglo-Saxon library, the small dining room, the breakfast room, the Kaïdale ceremonial tent, the outdoor lounges are permanent invitations to happiness and serenity.
Surprising for example this little blue salon whose furniture are from the 20s, now combines, glam rock style, the Art brut Senoufo of Michelle, decorator of the Hilton from the 60s !
The manor's breakfasts will be more classic, always with this logic of quality as to natural and
local ingredients
. The jams are divine and often English. Creativity will come from the place and a matter of envy: breakfasts take place in the old kitchen converted into an art room, or under the Arab-Andalusian ceremonial tent, or under the century-old tree that makes you dream: it's up to you to play with your desires!
Bike loan, table tennis... are reserved for guests of the Peylouse. The more daring will try to fish pike and carp in the pond. But, the national sport of La Peylouse remains literary and will remain a pleasure to laze in the garden with a good book in hand...
Which room are you going to prefer? Choice and stories are below :
The suite of Louis Joseph and Madame,

Honour to the creator of the mansion, a pleasure house of 1877 sitting on the main bastion of this ancestral citadel of Charles Quint revisited by Vauban for Louis XIV. Its very classic style is a nod to the precious furniture of Louis XV and XVI. The highlight: its four-poster bed and garden bathroom.

In the hushed world of Proust, Daniel was one of his intimates. The decoration follows with, large queen-size double bed, small boudoir of reading and writing and some nods dear to this visionary intellectual and publisher. Jasmine tea, reading in the small office is the right attitude... the bathroom is more than romantic and its bathtub on the stage dares a royal view of the park...

It begins with a small private staircase that announces its hushed side and the sweetness of this painter and decorator (notably the liner SS Norway (former SS France) liner. This Franco-Norwegian woman, trained by André Lhote has experienced all the follies of Paris and the artists who go with it. Large double bed in Zen atmosphere. Shower room and adjoining toilet.

Open your eyes wide: you are in one of the largest B&B rooms in France. Its surface area is about 150 m2 imposes unusual volumes. Its design, very 60', is a beautiful tribute to Charlotte's furniture. In perfect echo with Cadler or Baudin painters !
The loft space is available to you in 3 configurations :
- for 2 lovers with a double queen-size bed, and large bathroom with separate toilets, separate shower that ends with a fun room with a bathtub for 2.
- for a family of 4, you will have in addition to a closed room with double bed and a fun nod to another fashion designer Michel.
- for a family of 6 or 8 people, you add in addition to the mezzanine, with 2 beds- double, separate toilets and new shower room.

PRESTATIONS & RATES 2021
---
. Classic room (solo weekdays/shower - toilets) : 110€*
. Classic room (double/shower - toilet) : 120€*
. Suite with large bathroom - toilet (2 people) : 160€*
. Suite versus family (plus adjoining room 4 people) : 240€
. Loft (2 people with living room, with bathroom - toilet) : 210€*
. Loft (versus 4 people, plus with adjoining room) : 280€*
. Loft (versus 6 people, plus with adjoining room) : 380€*
. Loft (6/8 people plus mezzanine, shower 2 - toilet 2) : 440€*

* Parisian and Flemish breakfasts included, water and tea free, private parking.